Motorola Handheld
Details:
  (Click Image to Enlarge)
Advanced message capability
Can transmit 25 available and 10 preprogrammed messages.

Remote update and control functions
Monitors and disables units over the air.

Group calling
Allows users to access up to 50 public and 20 private groups.

Digital one-to-many call
Allows other DTR radios on same group ID and channel to communicate.

SMS text messaging
Comes with reception and origination information, as well as time/date stamping.

Lithium ion battery
Gives extra-long battery life—up to 19 hours of operation per full charge.

Rugged, compact polycarbonate housing
Offers comfort, with rubber overmold.

Durable design
Meets military 810 C, D, E, and F specifications for shock, vibration, water, dust and temperature extremes.

Full-graphic backlit display
Uses contrast adjustment and backlight timer and provides battery gauge.

Caller ID
Stores recent call list—up to last 10 transmissions.

Unit-to-unit configuration
Simplifies cloning operation, with via optional cable.

The better a team communicates, the more efficiently it operates. Motorola DTR Series digital on-site two-way radios are the power tools that enable that communication. Unlike alternative technologies, there are no monthly fees. No service towers. No per-minute charges. Moreover, these durable on-site two-way radios help businesses keep operations on schedule, maximize job shift productivity, enhance security and increase overall customer satisfaction.
Why Motorola Digital On-Site Two-Way Radios Meet Your Needs Best?
What makes the DTR Series perfect for your on-site operation? The digital technology of the DTR550™ and DTR650™ enables each unit to have its own unique 11-digit identification, bringing you new calling options:
DIGITAL ONE-TO-ONE CALLING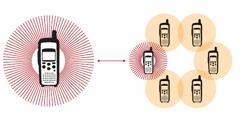 Allows you to call and talk privately with a specific user's radio. A private-call recipient can receive an alert, and the recipient's unit displays the caller's
ID.DIGITAL ONE-TO-MANY CALLING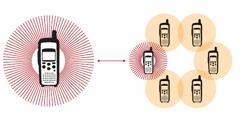 Public group call - all other DTR Series radios on the same group ID and channel hear communications, similar to analog radios.
Private group call - enables you to program DTR Series radios to communicate with specific sets of group members.
In addition to the unique digital calling features, you get many other benefits, including:
Coverage extended by 20%.*
Up to 45% longer operation on a single charge.*
Digital audio quality—which stays loud and clear everywhere you have coverage.
Call forwarding to other radio IDs.
Scroll list of frequently used group, private IDs, and a recent-calls list.
900 MHz ISM license-free band.
Frequency Hopping Spread Spectrum (FHSS) -For enhanced security, with 50 non-overlapping groups.
Short message service (SMS) text messaging - with 10 preset messages (five on DTR550) and support for keyed-in custom messages to meet more specific needs.
Motorola DTR Series Features
Motorola DTR550/DTR650 Models
AAH73WCF9NA3_N DTR550 Digital 900 MHz 1W
AAH73WCF9NA5_N DTR650 Digital 900 MHz 1W
Contact Lakeland Communications
in Wainwright to learn more about acquiring a
Motorola DTR650 Onsite Digital Portable Radio
.