Fleet Tracking
Telus Fleet Tracker
Track and manage your fleet in real-time
Gain visibility and insight into the whereabouts and activities of each of your vehicles with TELUS Fleet Tracker.  Shift the way you manage your fleet operations with a solution that gives you access to your fleet's real-time status as well as historical reporting including vehicle location, travel speed, vehicle idling (yes/no), vehicle requirements  and much more.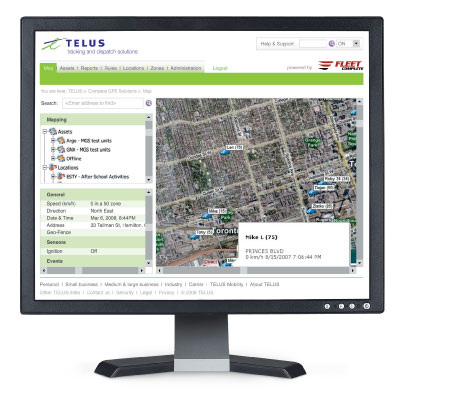 Key Benefits
Help to reduce fuel costs by reducing vehicle idling time, speeding and by improving route planning and selection
Improve vehicle utilization by improving fleet scheduling and eliminating inefficient routes
Gain full visibility into the operational activities of your vehicles and fleet with customizable reporting.  Use the reports to help you better manage your vehicle utilization, increase profitability, and uncover additional revenue generating opportunities.
Set geographic perimeters (geo-fences) and be alerted when your vehicles enter or exit the specified  areas.  Alternatively, use geo-fences to advise you when a vehicle is approaching a client's location and always be able to give customers an exact time of delivery.
Call (780) 842-6979 or visit Lakeland's office to get set up with Fleet Tracker today!